Final Passage
For anyone that enjoys a great mystery/thriller.




Just finished reading this book in one week. Great story line and a lot of twists and turns throughout the book that keep you guessing, just when you think you've figured it out another twist is thrown in. Great/happy ending!!
This was a short story about a couple on vacation with their daughter, then everything went wrong. I liked the book because it kept me reading to find out what really happened to the daughter only to find out that the daughter was in on the game. Suspenseful to the end!! The daughter was so bored that to make the vacation interesting she decided to play this game on her parents not thinking it would go as far as it did. The joke was on her because she didn't know that the people she was dealing with were pros.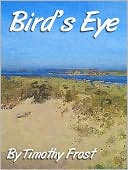 Cute little short story about someone that only wanted to do one thing in life to make it complete, to fly like a seagull.