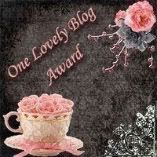 This is how the award works:

1. Accept the award, post it on your blog together with the name of the person who has granted the award and his or her blog link.
2. Pass the award to 15 other blogs that you've newly discovered.
3. Remember to contact the bloggers to let them know they have been chosen for this award.
I pass this award to:
Splash of our Worlds
You can go to
Crazy Bookworm
and click on the picture of the award on the left side of this site and it will give a page that will allow you to copy the text needed to post the award to your blog. For listing the fifteen blogs, just copy and pasted the links of the new blogs you've found and create a hyper link to them so when you click on the name it takes you to their site.